Yorkshire Tour
Sligo RFC (Under 11s and Under 12s, Diarmuids team) are just back from a tour of Yorkshire. Triona and myself drove over with the tour early last Friday morning. We traveled via Holyhead - a coach, two mini buses and a car, 75 in all. It was a fantastic trip.
Friday Night - Leeds Tykes v Saracens
We got to the out skirts of Leeds on Friday evening with just enough time to have a nice meal. Afterwards we made our way over to Headingly Stadium for the Leeds Tykes v Saracens match. At half time both the under 11s and under 12s played a match against some local sides - in front of 25,000 people!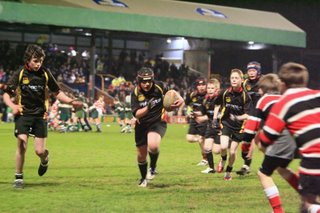 Both teams won their games, in appalling conditions, even after traveling for over 12 hours. A sign of things to come perhaps?
Unfortunately the home side didn't do their part and lost the big match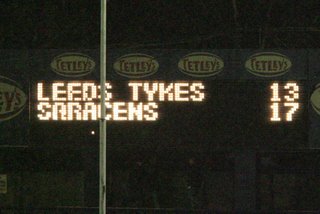 This means that Leeds are probably going to be relegated from the Premiership.
After the match the Sligo lads waited to see if the Leeds players wanted
their
autographs - it seems they were too embarrassed though to leave their dressing room so we took off to our fantastic
hostel
in York some 20 odd miles away. We finally hit bed at mid-night.
Saturday - Tri Nations Day
After a nice breakfast we had a few hours to kill so we went into York town centre for a look around. It's an amazing place, especially the Minster (which we did a tour of). Back for lunch and then we headed off to Moortown RFC for the Tri Nations tournament.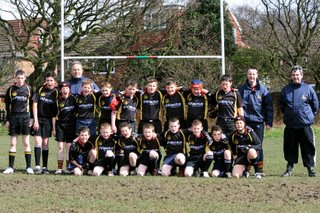 The Under 12 Side
5 High caliber teams in each age group had been assembled - 3 from England, 1 from Wales and 1 from Ireland. The weather was fairly nasty but everybody's spirits were up and the home side showed us great hospitality.
Best supporters in the world...
The rugby was tough but both sides made it to the final of each age group where they had to face Welsh opposition.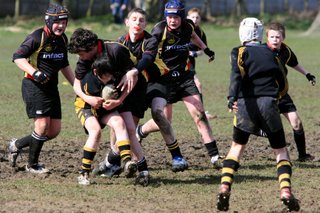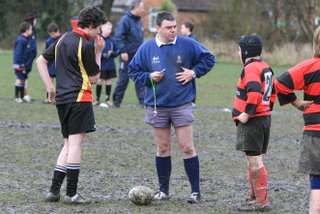 Diarmuid was captain for the final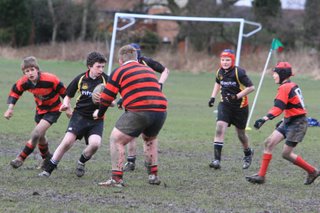 Diarmuid finally meets his match
Unfortunately the under12s were beaten by a very large and physical side in a bruising encounter. No quarter was asked for or given and both teams fought to the end in heavy mud. The under 11s won their final in thrilling fashion however. Their game ended in a draw and so was decided by sudden death penalty kicks straight in front of the posts which Sligo won thanks to a massive kick from Jason McGoldrick. Not all Bad then!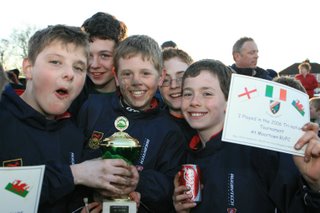 Diarmuid with some of the other under12s with their runners up trophy.
Sunday - Baildon RFC
Baildon (a wee town in the Yorkshire moors) hosted us on Sunday for a couple of matches. The guys were knackered but they still played their hearts out and won all their games.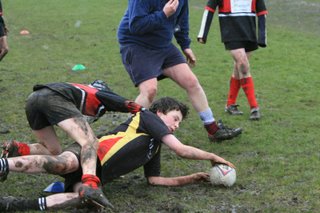 Diarmuid scoring a try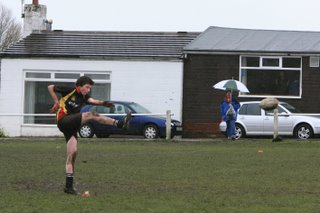 Diarmuid converting his try (or is he walking like an egyptian?)
We had a lovely meal back at the hostel afterwards and the kids got to watch a DVD. Of course we managed to get a couple of drinks in (the hostel had a bar after all) and the Under 12s (all 18 of them) decided they would have a party of their own. They raided (meaning they emptied) the various vending machines and had amassed a stash of some 75 cans of coke and 100 bars of chocolate which they were going to consume during the night. Needless to say they were relieved of their stash and promptly sent to bed. Good fun though.
Monday - Home
Everybody was well and truly wrecked by now. Breakfast was had, bags packed, and rooms tidied (well almost - there appears to have been a tooth paste incident in one of the rooms). We hit the road at 10.15am and finally made Sligo at 9pm.
The kids were all fantastic and the trip was a big success - thanks mainly to Samantha and Dean Weaver who did the organising.
The big end of season blitz is coming up on the 22nd. Sligo under 12s have a title to defend and if they play nearly as well as they did while on tour I expect they'll do it in style.