Triona's 30th Birthday Party
Tri's party is tonight on Moonriver. Should be great craic. I'll post pictures ASAP.
The Shannon Rally is also starting this weekend so it's going to be a busy time for us for the next 10 days. I'll try and keep this blog updated (if I can get this vodafone connect card to work properly that is).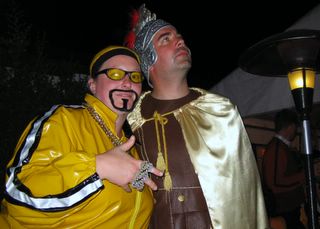 Here's a picture of us from the fancy dress party at last years rally. Triona's costume was hilarious and she certainly acted the part. I got to wear a dress which meant a lot to me.
Now I've got a million and one jobs to do so I better get the finger out.