Seattle, Day 2
Got into town last night - still with no bag however. Got to the hotel which is really nice (
The Edgewater
) - my room is right on the water front. I hooked up with Tom and we wasted little time in getting out and about in the beautiful weather :) (read we went out and found a bar as quickly as possible). Fergus from Nooked caught up with us later on.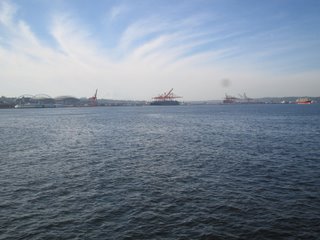 This is the view from my room
Had a decent nights sleep which was badly needed and we got up nice and fresh this morning and did some sightseeing. First stop was the world famous Space Needle which was cool, then we strolled up to Queen Anne (lovely place) and caught up with Fergus again. With Fergus and his friend Noel we then headed out to Microsoft in Redmond (we really are geeks). Wow! What a place! 25,000 people work on this site and the sheer scale of it was amazing. I think Infacta as a ways to go :) We got to see the Microsoft museum and then Noel gave us a tour of building 24 (where he works and where Bill's office is). Very cool - many thanks to Noel for taking the time to bring us out there and show us around.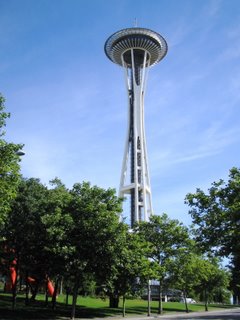 The Space Needle
We are going sailing shortly (after I buy some new clothes) and registration for the conference is at 7. After that I think we might go and have a small glass of something.
I'll post some more pics later.