Congratulations Honor & Paul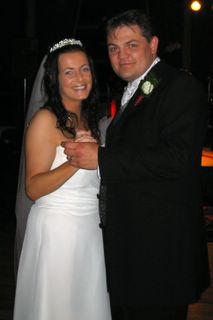 Honor Doyle & Paul Pender at their wedding recently (October 21st) in the Riverside Hotel in Enniscorthy, Co. Wexford. Honor looks after Tech Support at
Infacta
so most of the gang headed down (pictures not fit for public consumption). Some of you may have heard Paul being interviewed on Today FM by 'Ronan' (everybody singing :
oh yes he's the great Paul Pender oooh whoo ooh whooo ....
).
Honor was an impressive 40 minutes late for the church but it was worth it as she looked fantastic (and the groom was much relieved).
A great day, night and hangover was had by all!