SF Web 2.0 : That's a wrap
Sorry I didn't post on Saturday or Sunday last. The conference was finished on Friday evening and with that so was our free Wifi Internet access. On Friday evening there was a drinks jobby hosted by Yahoo. Pretty tame stuff but I think we had built up quite a resistance to free booze at this stage.
We (Paul, Brian and Julian) got hijacked by a limo driver in Union Square who brought us to the "Best Italian Eatery" in town (North Beach). I think there were moments when we all thought about jumping out of the car. Needless to say we stuck with it and everything worked out OK. No beatings or anything and the food was excellent. We finished off the evening with a few night caps in O'Reily's in Washington Square.
Saturday was tourist day. Sight seeing, some light shopping and the likes. The weather was great and the town was packed to the rafters (there was a golf open on as well as fleetweek). We finished off the day with a nice Mexican meal and a few scoops in Foley's. Julian left for home earlier but Fergus was back from his meetings on Friday.
Sunday/Monday were travel days - everything went more or less to plan. It was a real pain having to go through 3 sets of security (San Francisco, London and Dublin) but I guess that's the price you pay now adays for international travel.
I'll wrap up my SF posts with a few pictures from the trip not shown in previous posts.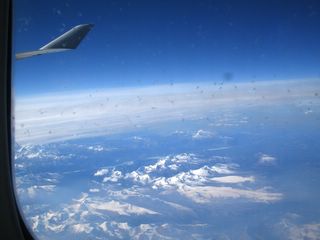 This is a picture of the Cascades taken from the window of our plane en-route to San Francisco.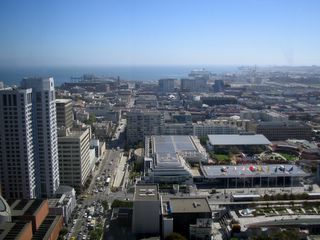 Picture of San Francisco from the Conference Hotel, The Argent.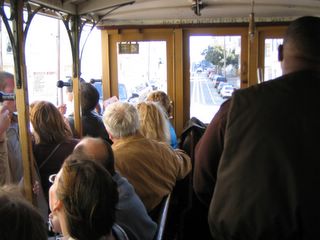 Of course we took a cable car ride (and it was great).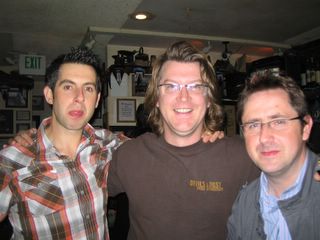 Paul (
enookdesign
), Brian (
Enterprise Ireland
) and Fergus (
Nooked
) (taken at The Irish Bank). Missing from pic is Julian (
Tablane
) and Benjamin (
Enterprise Ireland
) and mise.