How Mad Is That!!
The Ray D'Arcy show on TodayFM invited people all over Ireland to take some pictures on the 1st of October, 2005 (a snap shot of Ireland so to speak) and email them in (
more
). They were to be compiled into a book with the proceeds going to charity (Childline). The project was expected to gather about 5,000 images - instead over 20,000 were received, and unfortunately they could only publish 2,000 of them. We (Tri, Diarmuid and myself) all submitted images....
Well the book was just released at the weekend - it's called 'Us' and each of us have a picture in it!! (I've got 2).
Here's Triona's one, titled 'My Saturday'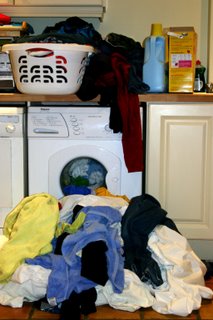 If you want to see our other pictures you better go and buy a copy of the book. If you live abroad just email me and I will arrange a copy for you. It's €15 a copy with €10 going to charity (it's worth a lot more as it's really good quality and the pictures are fantastic)
UPDATE:
One of my photo's was mentioned on 'The Panel' last night on TV! (as being a typically Irish, 'A hang over cure')