London
We: Jenny, Tim, Denise, Triona and me-self, finally made it over to visit Chris & Laura in London. We had a great weekend - flying out from Knock made it so stress free and convenient (makes you wonder why you didn't go before this) and we had a pretty easy going time of it there.
We arrvied on Friday and headed over to Teddington Studio's to see the filming of the first episode of Chris's new show - 'The I.T. Crowd' - a sitcom written and directed by Graham Linehan (of Fr. Ted/Black Books fame). It'll be on Channel 4 in February and unless the post production team really f*ck it up it'll be great. Anyhow - we got the green room treatment and lapped it up (it was sort of bizarre but we felt like we belonged there - at least that's what Denise kept repeating).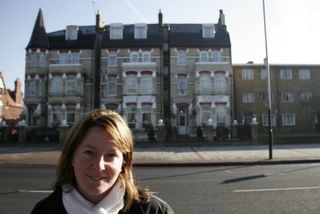 We stayed in this really shitty hotel on Clapham Common (near the guys flat) called the Euro Clapham Hotel (it used to be the Dudley) . It was a total and absolute dump/shit hole/dive/etc.. I've never stayed anywhere nearly as bad before (including hostels). It looks great from the outside but you enter a different dimension when you get inside. Steer clear unless you like that sort of thing. On the positive side you didn't have to go far to get outside and the weather was fab.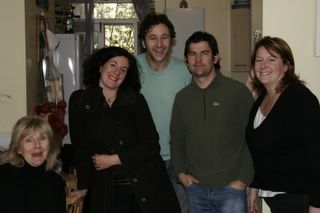 In Chris & Laura's lovely flat. Thankfully it was near the hotel :) We did the high st. on our way there, hung out for a while, and then hit Covent Garden for a lovely evening, topped off with the hottest curry I've ever eaten (and I like them hot). Wicked little b*stard of a thing it was. The tube surfing was a new experience and comes highly recommended - thanks Laura.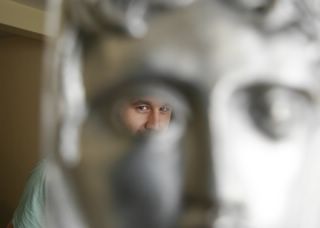 Christ with his Bafta award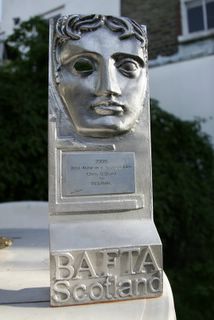 For the record..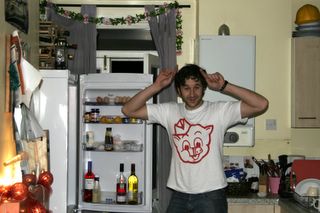 Chris on food duty (or was that drink?). I love the hard hat. I think it's very important that everybody have one these in their kitchen.
Thanks Chris & Laura for a great weekend!