Infacta's new office
As some of you may know Infacta moved office recently. We were based out in Strandhill but now we are over in Cleveragh, quite close to Lough Gill and just outside town.
We are on the first floor - the sign is just a mock up - we are waiting to get an actual sign installed. Looks the part though doesn't it!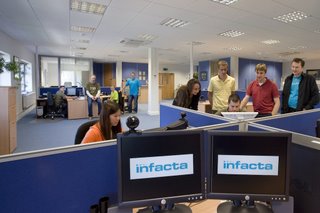 An interior shot which was featured in the Sligo Weekender this week (there's also an interview and photo of me in the Sligo Champion and we were in the Sunday Business Post and Examiner last weekend - it's been one of crazy those weeks ). Why all the press attention? Well we just announced our new US expansion - we now have an office in Sudden Valley, Bellingham, which is just a little north of Seattle.