Welcome Caleb!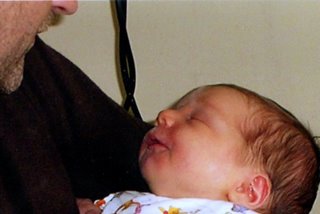 I finally managed to get a photo of Sean & Clodagh's new bouncing baby boy Calib online. Calib was born on the 12th of September [
previous post
]. We've had the photo for a while (sorry!) but our scanner wasn't working so good (or was that the user...).
So please join me now is saying Welcome to Caleb!
Regular posts will resume tomorrow - we are still a little bit all over the place since getting back from South Carolina (all I will say about Kiawah Island at the moment is WOW!).