The Rally Pictures
At last I hear you say! The pictures (well some of them) from the Shannon Rally 2005 are here!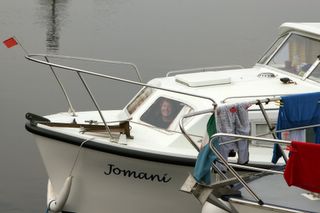 This was our first morning on the Rally at Dromod Harbour - we were still just getting squared away and didn't have our bunting up yet.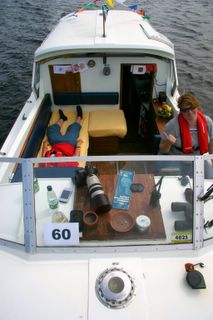 Diarmuid fast a sleep as Triona takes us across to Carnadoe from Dromod. We are able to slide the roof back on Jomani when the weather permits which is great.
At Carnadoe - we were moored down the third cut known as alcatraz with about 30 other boats. It was a lovely spot.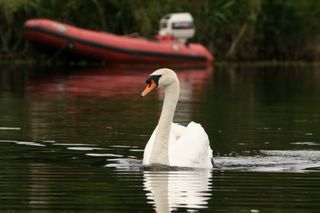 The Swans were very curious about all the boats and were spoilt rotten!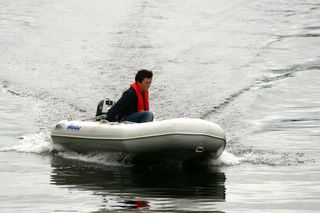 Diarmy out and about in the dingy. Little fiend went through petrol like nobodies business.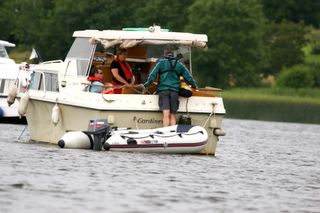 Ciaran & Nuala's boat 'Gardiner's Way' under going a boat inspection by one of the Rally Judges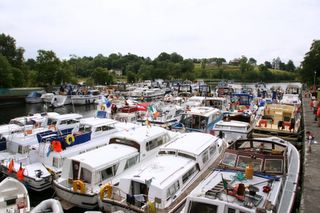 Can you spot Jomani? This is a shot from Jamestown with most of the boats present. It was quite a site from the Bridge.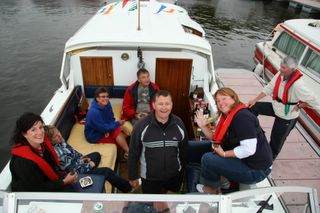 More craic on Jomani! Jenny, Nuala, Carmel, Martin, Ciaran, Triona and Brian. This was the start of a serious session which went well into the dark hours and involved a good deal of singing (and shouting)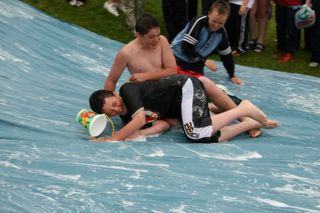 Diarmuid and his friends during the Commando competition at Lough Key. They had to carry water up the soapy slide in the wee buckets - 9 times out of 10 they ended up in a heap...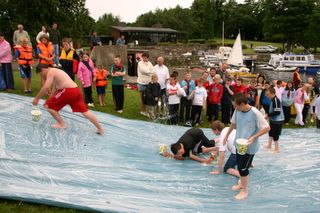 See what I mean?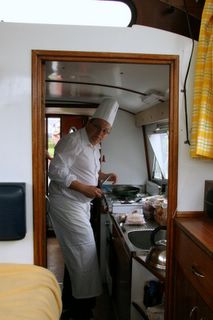 Yes - that's a chef on our boat!! Triona successfully bid for a champagne breakfast at the RLNI auction. The chef came on board, brought all his own supplies, then cooked for us and cleaned up after. Absolutely fantastic.