Jonathan, Triona & Diarmuid's Blog featuring Kipper & Rosie
Keep up to date with all the latest news, events, vet visits, craic and the likes from the O'Dowd Hill household in our weblog.
Thursday, May 24, 2007
Election Day!
Vote early and Vote often!
That used to be the mantra of the Fianna Fáil party a few years back - seriously! Times have changed thankfully but I'm thinking FF wish they could employ similar tactics now. All the recent Polls are suggesting a very close race with Fine Gael/Labour just about edging.
If your feeling mischievous why not vote for the 'shinners'! (Sinn Féin - the political wing of the now disbanded IRA) - that would be interesting.
Sorry for not posting lately. A lot of distractions and procrastination going on.
Labels: election
Tuesday, May 01, 2007
Happy Birthday Diarmuid!
It's official - Diarmuid is now a teenager. Happy Birthday son!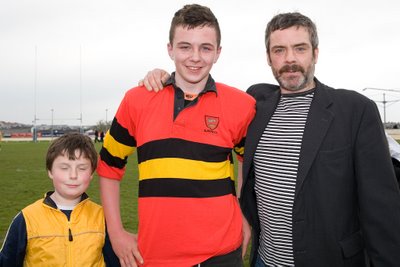 Diarmuid with his uncle John and cousin Sean (who has an uncanny knack of closing his eyes just as the shutter opens - pretty amazing really, it's like he's sync'd up to the camera) moments after winning the Connacht final last Sunday.


Diarmuid has been displaying symptoms of being a teenager for a while now, and we are almost conversant in 'mumble' and such things. Something amazing happened today though - Diarmuid was up early for school and ready in record time? Can we hope this will continue?