Pat Lawler u13 National Cup
Diarmuid and the rest of his u13 squad from Sligo RFC traveled down to Limerick last weekend to participate in the Pat Lawler u13 National Cup in Thomond Park - the home of the Heineken European Champions, Munster.
This was Sligo's first time ever at the invitation only competition and they were the sole team representing Connaught. The competition being dominated by teams from Munster, Leinster and Ulster little hope was given to our squad of bravehearts.
This was essentially a pre-season tournament and the boys had only three training sessions leading up to it - so perhaps we had little reason to have much confidence either. This Sligo squad however are a cocky little bunch of upstarts and they weren't prepared to kowtow to anybody regardless of where they came from or what tradition they represented.
Their tour to Leeds earlier this year obviously bonded the team who came out of the blocks like men possessed. Drawn in a tough group against teams they had never played before and knew nothing about they immediately made their presence felt. Imposing themselves right from the start they got straight out of their group without conceding a try leaving a trail of destruction behind them - their opposition at this stage didn't know what hit them!
Heads started to turn with their first blitz attack and all of a sudden the big teams were looking over their shoulders. Sligo it seems were not aware that they were here just to make up the numbers.
Drawn in the quarter finals against the mighty Shannon club (a home side) Sligo played perhaps their best game. Shannon who were a physically big squad were not as easy to turn over - never the less Sligo just kept the pressure up and made sure an upset was on the cards. Getting over the line first it looked like Sligo might just do it. Half time came, Sligo ahead by one, Shannon wounded but not out. Shannon started the second half with fierce determination, hitting Sligo hard all over the field. This was the Shannon that everybody expected. Their effort was duly rewarded with an equalizing try.
Was this to be the end of Sligo? Were they to collapse now as expected and do the decent thing and let the home side go through? Not a chance. Sligo got straight back into it, they took the game by the scruff of the neck and decided to let everybody know that they meant business. They dug deep and threw everything at their opposition. Nobody doubted what was coming next - bang - Sligo were leading 2 to 1. Then the whistle came for time. Shannon devastated, Sligo calm and collected, wondering what all the fuss was about.
As the team were leaving the pitch I over heard a UL Bohemians player asking one of our squad who won, the reply extracted a "Shite, that means we have to play you in the semi's" - Sligo it seems were now considered worthy.
The semi final against UL Bomenians A's (another home team and one of the strongest teams in Munster) was epic. The munster side was classy, the visitors were unimpressed. Sligo's typical battering ram approach earned them first blood. UL Bohs fought back
to level it. Sligo were not going to let it slip now and a stalemate ensued. See-sawing from one end to the other the game ended in a draw. Extra time was called and both teams continued as they started, neither prepared to let the other over the line. Both teams defended like their lives depended on it. This game was an emotional roller coaster for all present. The final whistle was called and at this stage even the fans were exhausted.
The rules stated that if a game ends in a draw after extra time then the team that scores first wins. A tough rule but this is what they have done in this competition for the past 23 years so who are we to argue. A sense of shock came over the ground as players and fans alike started to realize that Sligo where through to the final! UL Bohs players, coaches and fans were in agony - this was a tough way to go out. Sligo were minnows no more. Their victory earned, their reward: The Final.
Sligo were knackered at this stage, and unfortunately they got little time to rest. The giants of Young Munster awaited and they were eager. Sligo stood tall, they were equals now.
Perhaps this was one game too many. The team were simply unable to gather the strength required for this one last battle. Unable to impose their style of play Sligo were put to the sword. The semi-final with it's extra time was to be their undoing it seemed. This squad don't roll over easy though and they fought till the bitter end. You couldn't be prouder.
Sligo were as gracious in defeat as they had been in victory. They were upset but proud of what they had achieved. They had come to the home of rugby and made their bed there. This is a team for the future.
On a side note, Sligo not only took scalps - they made friends as well. The club have been invited to take part again next year and a number of clubs now want to travel up and play the lads. This is perhaps the sweetest prize for the club, the chance to mix and learn from tops teams outside of Connaught. This can only improve the entire standard of Sligo rugby. Well done lads, you've served your club well.
Some pictures from the tournament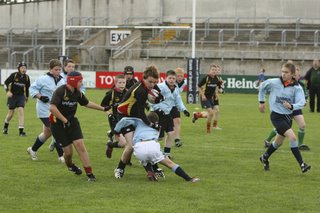 Diarmuid taking a tackle in the match against Kilfeacle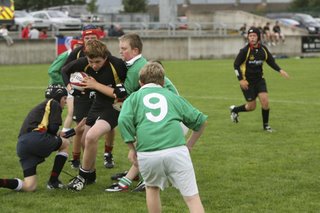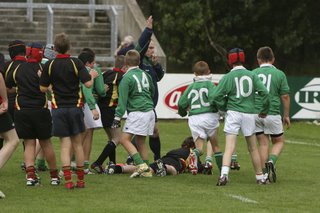 Diarmuid getting over for a try against Richmond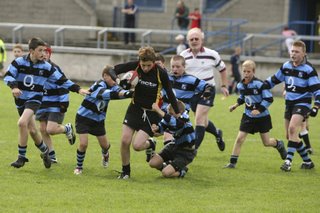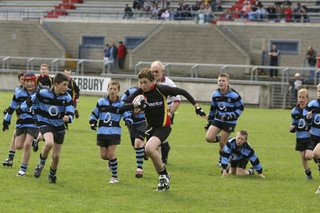 Diarmuid breaking for the line (and yes he scored)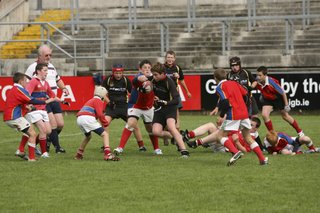 Against UL Bohs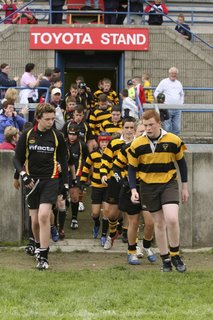 Diarmuid leading out his team in the final against Young Munster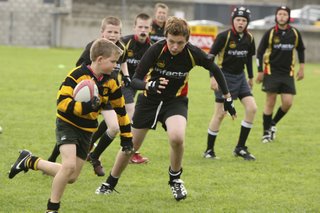 Seek and destroy...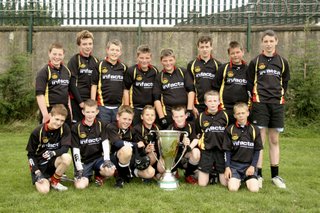 The team with the Heineken Cup - something to aim for in the future perhaps?
Loads more photos from the tournament (not just of Diarmuid) are available here on
Flickr