San Francisco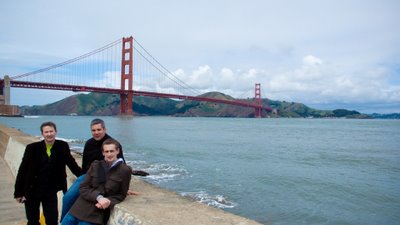 I'm just back from a conference (
Web2Expo
) in San Francisco.
Derek and Lenny (also from Infacta) came along with me as well. I've been to San Fran before but I never got a chance to do any site seeing so I made a point of including one free day in the itinerary this time so we could do the touristy thing.
Being the energetic types that we are (not!) we rented some bikes and took a cycle over The Golden Gate bridge, had a wander around Sausalito (beautiful place), took a ferry back (past Alcatraz) across the bay, then hopped on a tram (Powell and Market line) and finished with some lite shopping (Nordstroms). Now that's tourism a man's way! (ie condensed and quick).
I highly recommend renting bikes if you ever go out there - it was a really great way to scoot around (and those American bikes are a hoot to cycle).
Labels: San Francisco, Web2Expo